Uniform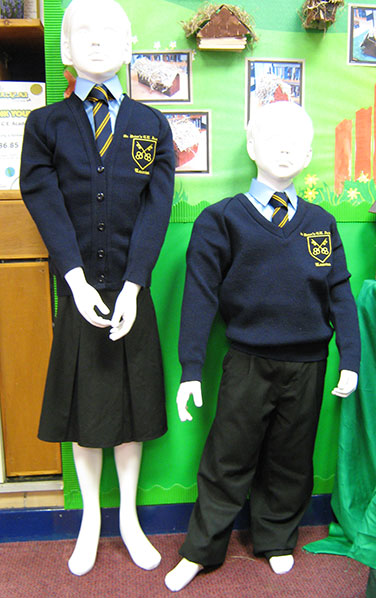 Uniform ordering is carried out online direct with our manufacturer 'Karlsports Ltd' via their web site. Click the icon below to reach the website.

Ordered items will be delivered to your home address for a small charge.
Uniform Requirements
The following will not be permitted:
Jewellery other than plain studs
Make up
False nails or nail varnish
Extreme hair-styles and hair colouring that is not naturally occuring (bleaching)
Hair should be tidy and of a neat appearance. Hair accessories should be plain,small and discreet.
All School uniform and all items of clothing and equipment should be clearly labelled with your child's name.
Uniform Items
Light blue collared shirt (short or long sleeves).
Navy blue knitted cardigan with embroidered school logo.
Navy blue knitted V-neck jumper with embroidered school logo.
Black skirt, black school trousers, tailored shorts or pinafore.
A tie in school colours (navy blue with gold stripe). No clip-on or elastic ties permitted.
Navy blue gingham dress (in summer only).
Black socks or tights.
Black leather or leather-like shoes with sensible soles and low heels / plain black trainers (no logos) NO BOOTS.
Children should not wear designer trainers, shoes or boots with high heels, flip flops, strappy sandals or 'wheelies'.
Physical Education Clothing Requirements
Navy shorts (no designer wear).
White school logo t-shirt or plain white t-shirt (no designer wear).
Navy jogging bottoms (no branded wear).
Navy hooded top with school logo or plain navy hooded top (no brands).
A pair of trainers.
Swimming kit (Year 5): One piece costume/trunks and a towel. Swimming hats are provided by the school, but if they are lost a replacement will need to be purchased.
Please note NO jewellery should be worn in PE lessons, this includes all earrings. Children will be expected to remove their earrings for all PE activities. (please supply tape if your child has newly pierced ears).
Additional Equipment
Old shirt which can then be used as a painting smock.
Named water bottle.