Pupil Absence
If you would like to remove your child from school for a set period of time, please download the below application of leave form and return it to the school office.
Benefits of school attendance
Good attendance at school is not just valuable, it's essential as it is directly linked to improved learning performance. As well as this, going to school helps to develop:
Friendships
Social skills
Team values
Life skills
Cultural awareness
Career pathways
St Peter's target attendance is 97%.
Absence from school
All schools must record details of pupils' attendance and absence at school. They do this at the beginning of morning and afternoon sessions meaning that each day your child receives two half day marks.
If your child is going to be absent from school, (e.g. for an unavoidable appointment) then you should let the school know as soon as possible. If your child has been absent due to an unexpected event such as bereavement or illness then you must also let the school know on the first day of absence in line with the school's attendance policy.
The school will then record the absence. If you fail to tell the school as to why your child has not been present then the school may record that period of absence as being unauthorised.
The Education Welfare Service (EWS) has access to all attendance information for each pupil and if your child is missing school without good reason, schools and the EA have the authority to find out why.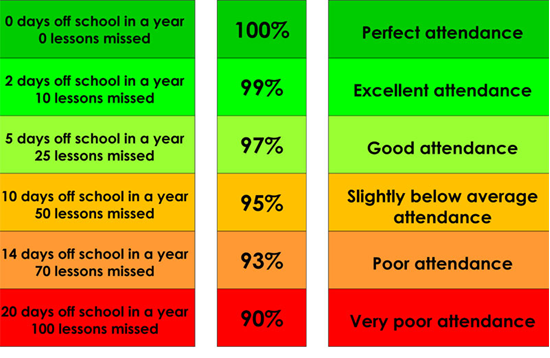 Support from your child's school
As a parent or guardian, you should make sure that you adhere to the guidance provided in St Peter's Attendance Policy about attendance and notifying absence.
Your child's school is the first place to discuss any attendance problems, please contact us for support if needed.