COVID-19 and Safeguarding Information
Continued provision for children of key workers (critical workers) or vulnerable students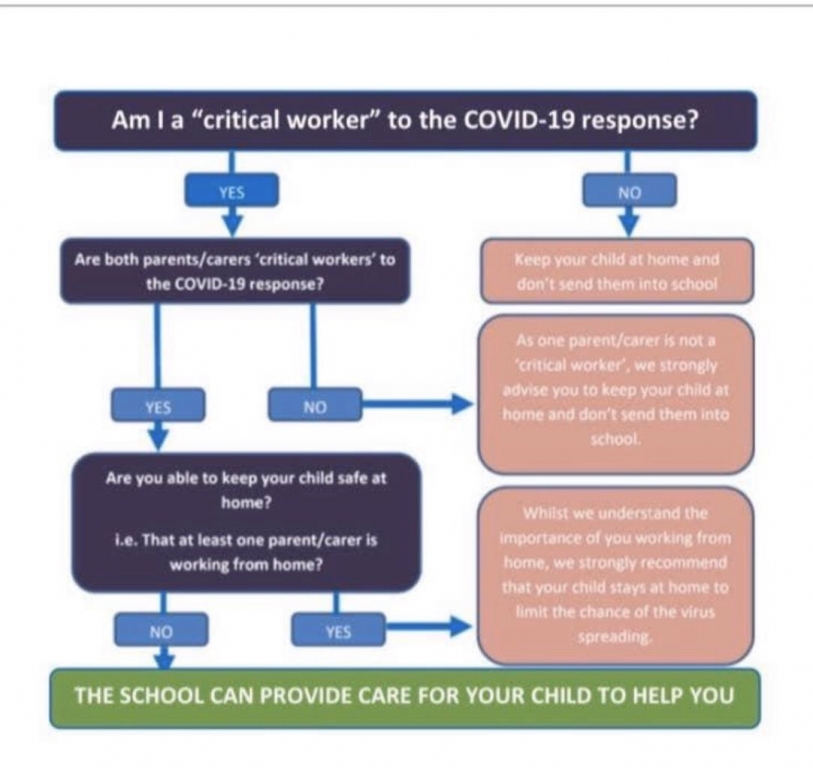 St. Peter's CE Academy continues to support vulnerable children or children of key workers (critical workers) on a daily basis. Our key worker provision is available Monday to Friday from 8:00am until 4:00pm. If you have any queries regarding this provision please contact This email address is being protected from spambots. You need JavaScript enabled to view it.
Current government advice is to 'Stay Alert'. We can all help control the virus if we all stay alert. This means you must:
stay at home as much as possible
limit contact with other people
keep your distance if you go out (2 metres apart where possible)
wash your hand regularly
DO NOT LEAVE HOME IF ANYONE IN YOUR HOUSHOLD HAS SYMPTOMS.
Provision for children in Year 6
From the 15th June, Year 6 children can attend the school setting on a part time basis for two days per week. Days are blocked in pairs: Monday and Tuesday or a Thursday and Friday. These days are pre-selected by the school and cannot be changed.
As spacing in groups and classrooms are limited due to social distancing measures, Year 6 children need to 'book' a place a school in advance. If you wish to book a space for your child, please email the school office on This email address is being protected from spambots. You need JavaScript enabled to view it..
Provision for children in Year 3, 4 and 5 (not key worker children)
From the week commencing the 22nd June, we will be offering a series of reconnection sessions on a Wednesday for some year groups. In July, we will be offering every child the opportunity to 'meet the teacher' as part of our transition to their next year group.
Further information about the dates, times and year groups for these sessions can be found in the letters home section of our website.
Free School Meals
All children in receipt of Free School Meals will receive a weekly e-voucher for £15.00 from the government. These vouchers are emailed out on Thursdays for the following week. If a parent in unable to access the e-voucher, these can be printed for each family at school and sent out.
If your family circumstances have changed in recent weeks and believe your child may now be eligible for Free School Meals, please click here to check your eligibility.
Further queries about Free School Meals can be directed to This email address is being protected from spambots. You need JavaScript enabled to view it..
Latest Government advice
In line with the latest Government advice, we are continuing to reinforce the message that our children and their families should stay at home and follow the guidance to support the national effort in handling this pandemic.
We will, of course continue to communicate regularly through the website and Wisepay when the information changes.
COVID-19: guidance for households with possible coronavirus infection
https://www.gov.uk/government/publications/covid-19-stay-at-home-guidance
Applying for a Coronavirus Test
https://www.nhs.uk/conditions/coronavirus-covid-19/testing-and-tracing/ask-for-a-test-to-check-if-you-have-coronavirus/

Safeguarding information
Coronavirus for children (Children's Commissioner)
This children's guide to coronavirus aims to answer children's questions about coronavirus, tell children how to stay safe and protect other people and how to help them make the best of their time at home. You can download the guide by clicking here.
Coronavirus advice for parents and carers (NSPCC)
The NSPCC have put together a wealth of information and advice for parents and carers to help support their children - click here.
Mental health and wellbeing
Please click on the following links for mental health and wellbeing resources:
Letters Home